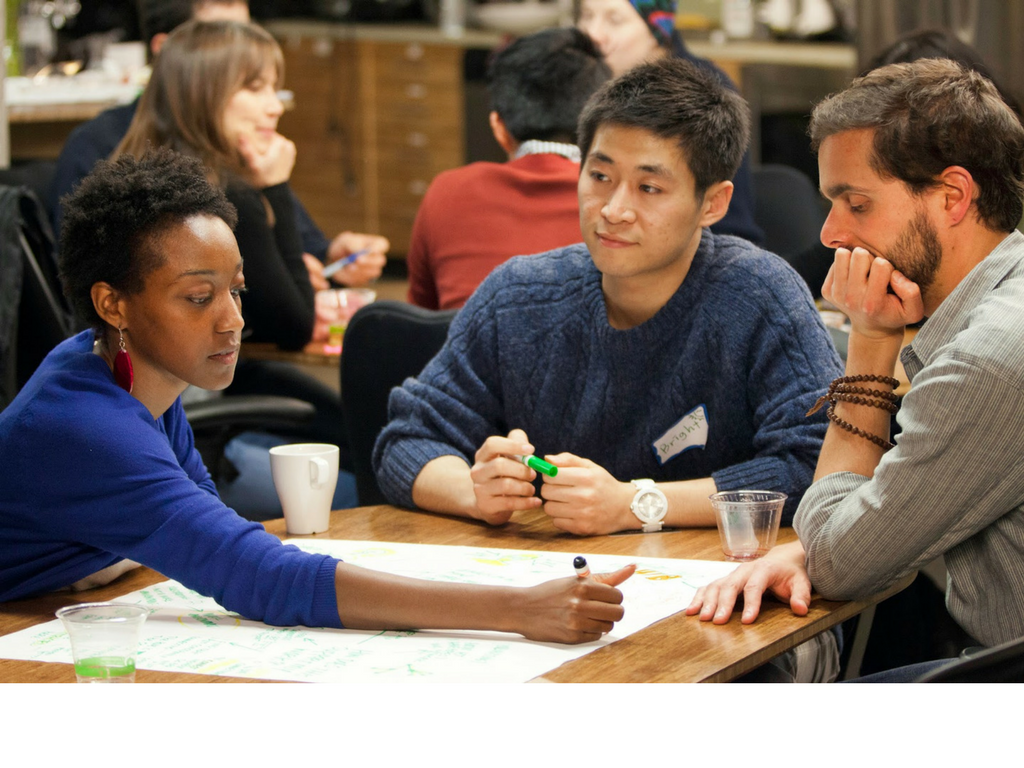 Neighborhood Economics 2014 (Inaugural), Louisville, KY
Hypothesis - The concept of focusing on a neighborhood level economy, rather than city level, was a success!
200+ Attendees
Neighborhood Economics 2015 Cincinnati, OH
Peter Block attended the inaugural event and loved it but challenged us to change our model; not just have an event but to let people meet, learn and potentially partner. Intentionally design the event so that it had a bigger impact a year later than it did that day.
We did that, and put on an event for 300 attendees, but also got $30K funding for six months for Derrick Braziel who leads MORTAR, the world class lean startup meets SBA accelerator to also function as a system entrepreneur, community quarterback for six months, to be the connective tissue to bring the economic ecosystem around entrepreneurship education and funding for marginalized communities (starting in the Over the Rhine neighborhood).
That $30K investment catalyzed more than $4.6M in funding including a recent $450K from the Kauffman Foundation and $50K, finally, from the SBA. Derrick and the people in Cincinnati say without prompting, that we did MAKE it happen, but it would not have happened without us. We continue to work with Derrick and he speaks at all our events.
Neighborhood Economics 2016 San Francisco, CA; next to SOCAP16
Having worked with Derrick and Rani Croager of Uptima Business Bootcamp, a similar accelerator for marginalized entrepreneurs, operating out of Impact Hubs in Oakland and SF, we determined that no source of capital was right for these entrepreneurs. They did not have the 25 friends with $25 that Kiva needed, they could NOT get CDFI and other loans that needed three years operating and a clean balance sheet.
They needed friends and family funding but with African-Americans having an average of $16 in family assets and hispanics $18 compared to white family's average $180, they could not get the $20K to $30K the SBA says is needed to launch successfully. So, working with Self Help, and Impact Hub Oakland and Uptima we created a product that did work; only charging interest for the first two years, these 4-6% loans acted like equity and gave them money to run. Kiva demands immediate payment on their no interest loans.
We presented at SOCAP and got $450K (which was our goal, with $50k reserved for the community investing in itself in less than an hour of meetings and had $5M in inbound demand from SOCAP attendees, but did not have the absorptive capacity to take it (not enough entrepreneurs coming out of world class lean startup accelerators wanting to move their business to a storefront or a kiosk in a high traffic area). With the uniquely structured loan loss reserve, these loans are virtually risk free to the average person. The model is now in discussions to expand to several partners in other cities. We also raised an additional $450,000 in loan loss reserve for Oakland entrepreneurs.
Neighborhood Economics System Entrepreneur Summit 2017 San Francisco, CA
A group of change makers working on wealth creation for marginalized communities met for a day and half funded by the Kauffman Foundation and New Resource Bank. Monthly high energy conference calls, with follow-ups are continuing to happen, along with the creation of a Facebook Group and a Slack group. That group has created a pooled fund of funds with capacity for shared infrastructure across the network that the Kellogg Foundation has expressed interest in funding. Kauffman has said they would like to continue to fund quarterly covenings of the people running accelerators and creating funds in cities from Cincinnati to New Orleans, Detroit, Jackson, MS, Seattle, Boston and Oakland and more.